Generating Lists (Inlinks)
Generating Lists (i.e. In-links)
One of the biggest advantages of using MPG plugin is ability to generated filtered lists of data from your Source file. This helps generating tables of factual content, in-links, etc. A most popular example would be generating a clickable list of all states in a country, or cities in a state.
To do just that, we will:
head over to our MPG project, and click the "Shortcode" tab at the top of the page.
Scroll down to "Generate list".
Here we can setup the filter and criterial of the generated list. For example, if you use our "US cities" template and would like to generate a clickable list of all cities in Cuyahoga Country, in state of Ohio, you would specify the condition to be state_name = Ohio AND county_name = Cuyahoga.
A shortcode below will be generated which you can preview (first 4 URLs will appear).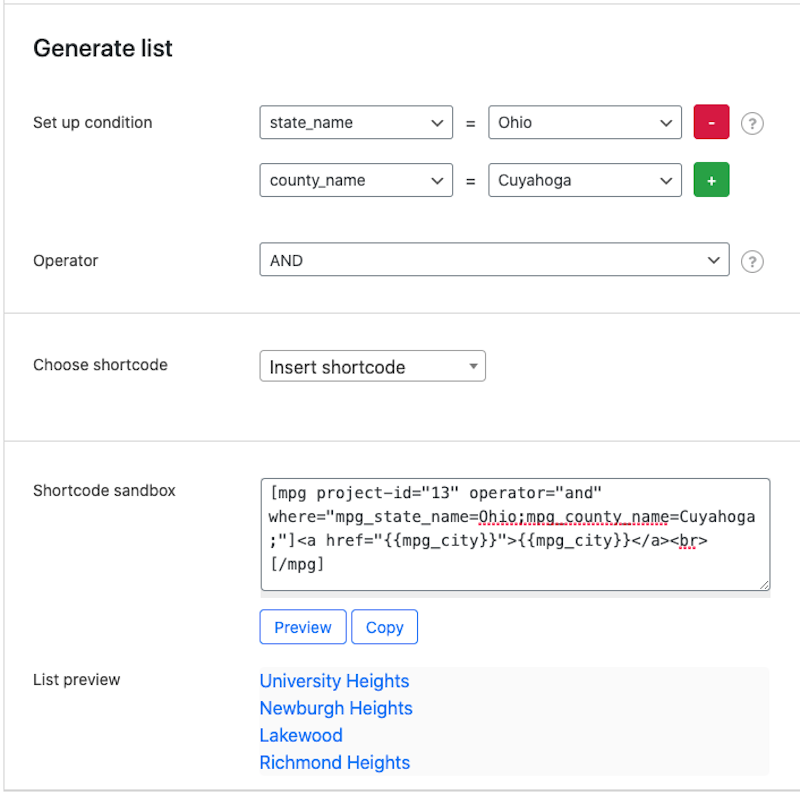 But you don't need to limit yourself with just a list! Generate a whole table with adding some HTML code..
<table style="width:100%" border="1″><tr></tr></table>
Let your imagination run wild by creating nests of templates! You can have a template made out for countries, inside of each generated page have a generated list of states/provinces, inside have a list of generated cities, inside have a list of generated Mayors and each page contain biography on each mayor. Impressed yet?! Go and try this yourself!